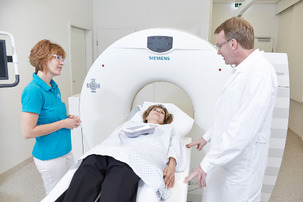 Was ist Computertomographie
Computed tomography is a cross-sectional imaging technique that uses x-rays to create three-dimensional pictures of internal organs. Thin cross-sectional images are made of the area of the body examined, and after computer calculation, they are evaluated on monitors.
With our Multislice CT device, 16 layers are produced simultaneously. The examination times are therefore short – prolonged breath-holding on the patient's part is avoided. The procedure is characterized by highly accurate depiction of detail and low-radiation detector technology. This ensures precise a diagnosis, and there is minimal discomfort for the patient with this painless examination procedure.