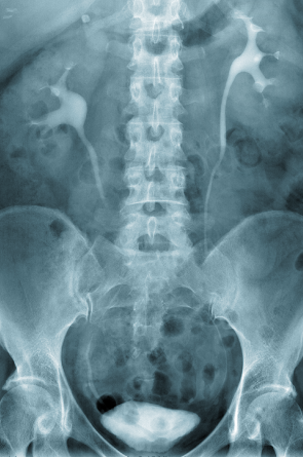 Nierenröntgen
Kidney x-ray (IVP – intravenous pyelogram)
Preparation: Bring laboratory results for kidneys and thyroid gland with you (creatinine, BUN TSH) – they may not be older than 4 weeks!
EAT LIGHT MEALS THE DAY BEFORE THE EXAMINATION, AVOID ANYTHING THAT WILL CAUSE FLATULENCE
STILL WATER AND UNSWEETENED TEA ARE ALLOWED.
THE CONTRAST MEDIUM IS ADMINISTERED INTRAVENOUSLY.
If you suffer from diabetes and take tablets for this condition (oral antidiabetics), we ask you not to take them the day before the examination, as many medications may not be taken with contrast medium.
No other medications are affected.
Possible adverse reactions and complications:
A sensation of bodily warmth and a bitter taste on the tongue occasionally occur but are harmless and pass quickly.
In rare cases, a vein may burst during the injection, which usually leaves a bruise, however this disappears quite quickly
Allergic reactions to a contrast medium are always a possibility
The chances of developing an allergic reaction are somewhat greater if you have an allergy.
Please inform us before the examination if you suffer from:
Asthma
Allergy to mites or house dust
A pollen allergy (hay fever)
Food allergies (pineapple, kiwi, nuts, oranges)
Medication allergies
Allergies to sun or cold
Bandage allergy
Costume jewelry allergy.
Allergic reactions are usually limited to short-lasting skin rashes and itching, possibly including welt formation.
There is sometimes slight irritation in the throat, in rare cases -- with particularly sensitive individuals -- there can be shortness of breath.
DURING THE EXAMINATION, REPORT ANY DISCOMFORT THAT SEEMS UNUSUAL TO YOU IMMEDIATELY, ASIDE FROM A SENSATION OF WARMTH OR A BITTER TASTE ON THE TONGUE.
In order to ensure safe administration of the contrast medium, you will be asked to fill out a questionnaire.