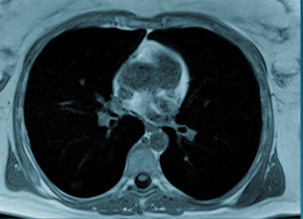 MRT zur Früherkennung von Lungenkrebs
Preventive lung screening using MRT is a relatively new procedure that does not involve radiation exposure and can therefore be performed without hesitation.
Lung cancer is the most common fatal cancer in men, and the second-most common in women.
Sensitivity for focuses in the lungs larger than 4 mm is 80%; for focuses measuring 8 mm and up, sensitivity is 100%.
It is very important for good quality MRT images that the person being examined hold his breath when and as long as he is asked to do so. In that way, blurred images can be avoided.