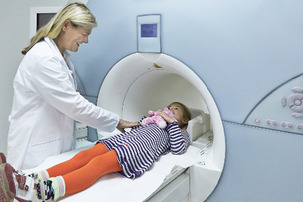 MRT bei Kindern
Due to the absence of radiation exposure, MRT is particularly well-suited for children.
The relatively long duration of the examination, the loud noises during the procedure, and the necessity of lying still often lead to stress situations in children and their parents.
In order to avoid this, we make a special effort to accommodate you and your child. Parents can stay with their child in the examination room (provided they do not have a cardiac pacemaker), and the child can hold a cuddly toy during the examination.
We have experience and patience.