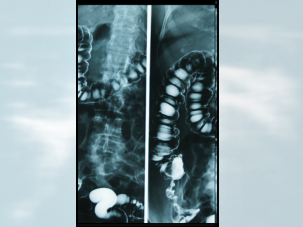 Magen, Dünn- und Dickdarm
Stomach and duodenum x-ray
Preparation: fast for at least 6 hours, preferably 12 hours; contrast medium is taken orally in effervescent powder form
Inspection of gastric mucous membrane for gastritis or tumors
Assessment of overproduction (hypersecretion) of gastric juices and possible reflux
Assessment of possible diaphragmatic hernia
Assessment of gastric outlet obstruction
Small intestine and colon passages
Preparation: fast for at least 6 hours, preferably 12 hours; contract medium is taken orally
Assessment of temporal sequence of passages
Recognition of possible inflammatory processes or contrast-medium stoppages
Colon x-ray (irrigoscopy)
Preparation:
The day before the examination, a light midday meal is permitted (for example, boiled fish, chicken, rice, rusks).
FAT, FRUIT, VEGETABLES, MILK, BISCUITS, BREAD, AND PASTRIES MAY NOT BE CONSUMED!
Take the laxative (for example X-Prep) at approximately 14:00 hours – it will start to work in approximately 5-8 hours.
DRINK AT LEAST 3 TO 4 LITERS OF WATER OR UNSWEETENED TEA AFTER TAKING THE LAXATIVE!
The colon must be emptied completely in order to ensure reliable identification of pathological changes. Therefore, in your own interest, please prepare for the examination exactly as described!