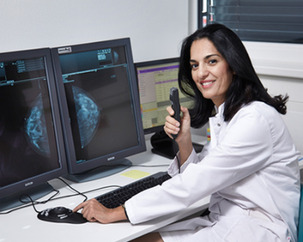 Brustkrebs-Früherkennung
Mammography, possibly combined with sonography
After the age of 40, regular mammogram screening is recommended.
In the certified Breast Centre of Diagnosezentrum med22, you will be examined using the latest, fully digitalized MicroDose Mammography system.
This guarantees you significantly reduced radiation exposure and the greatest possible comfort during the examination. The images are stored, so they are available to you, and to us at any time.
Each examination is evaluated by two certified specialist physicians.
Mammography is the best method for the early detection of breast cancer.
Sonography can also be done as a supplement:
when there is very dense mammary gland parenchyma
when unclear changes are seen in the mammogram
Ultrasound examination alone is not enough, as the discrete microcalcifications detected by mammography cannot be seen using ultrasound.
Many women find mammography unpleasant due to the breast compression applied during the procedure.
However, this pressure is necessary, on the one hand in order to achieve a good presentation and in that way a good assessment of the breast parenchyma, and on the other hand this also reduces radiation exposure.
Mammography should be done at the beginning of the cycle (during the first 14 days after the onset of menstruation).
For postmenopausal women, the examination can be done at any time.
Mammography is also possible after breast enlargement with silicone implants. Digital mammography enables very good assessment of the surrounding breast parenchyma. The status of silicone implants can also be checked.
All mammography findings are assessed according to the recommendations of the American College of Radiology's Breast Imaging Reporting and Data System (BI-RADS).
| | |
| --- | --- |
| BI-RADS 0 | No assessment possible, further examinations are required |
| BI-RADS I | No pathological findings |
| BI-RADS II | Certain benign change |
| BI-RADS III | Unclear findings, however very likely benign |
| BI-RADS IV | Suspect findings, a biopsy is recommended |
| BI-RADS V | Very likely malignant; extirpation followed by histological examination recommended |
| BI-RADS VI | Histologically verified carcinoma |
The word tumor is basically neutral; it can refer to a benign tumor (cyst, fibroadenoma, lipoma), or it can be a malignant tumor (mammary carcinoma).
Breast cancer is the most frequent malignant disease in women. In Austria, around 5000 new cases are registered every year. Approximately 1 in 9 women contracts breast cancer during her lifetime.
In rare cases, men can also develop breast cancer.
Early detection is decisive for successful treatment. When discovered early on, the chances of complete recovery are very good.
A modern magnetic resonance imaging system is also available to you in Diagnosezentrum med22. Appointments are given at short-notice only!