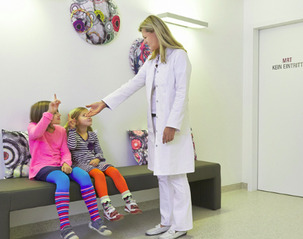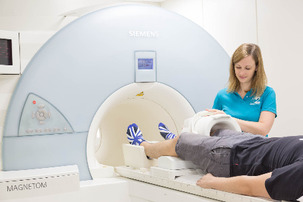 Ablauf der Untersuchung
MRT preparation
Before the examination, you will be given an instruction sheet.
You can also read, download, and print out the information sheet from this website.
http://www.oerg.at/tl_files/uploads/Aufklaerungsblaetter/MRT_deutsch.pdf
Due to the strong magnetic field, all metal objects must be removed before entering the examination room (watches, hearing aids, eyeglasses, removable dentures, brassieres with hooks or metal catches, piercing objects, etc.).
All metal implants, such as cardiac pacemakers, stents, heart valves, surgical clips, ear implants, pain or insulin pumps, joint prostheses, metal splinters, or similar objects must be mentioned on the information sheet.
Absolute counterindications are:
Cardiac pacemaker
Implanted defibrillators
Cochlea implants
Implanted drug pumps
At this time, we CANNOT examine patients with cardiac pacemakers or electronic implants. Pacemakers that can be safely used during MR scans also require that certain preconditions be met and specific examination procedures followed.
Please inform us which metal objects are present in your body, or bring your implant ID card with you. Our specialist staff will decide, on an individual basis, whether an MRT is possible with these metal objects in the body.
Pregnancy
An MRT is in principle possible during a pregnancy and is harmless to the unborn child. However, during the first trimester of pregnancy, the examination is done only when urgently needed.
MRT examination procedure
You will lie on an examination bed that is slid into a bright, well-ventilated examination tunnel that is open at the head- and foot ends.
The region that is to be examined must lie in the middle of the tunnel, for example during the examination of a knee joint, your head will be outside the tunnel.
Loud knocking noises occur during the examination. You will therefore be given ear protection.
The examination lasts about 20 minutes.
Claustrophobia problem
As noted above, it is essential, during an MRT examination, that the part of the body that is to be examined be situated in the middle of the tunnel. Consequently, during a knee examination, the head will be outside the tunnel. However, if the head has to be examined, it will be positioned in the middle of the tunnel.
Many people suffer from claustrophobia – BUT we can help you if you belong to this group. Talk to us before the examination!
If you have doubts, stop by and have a look at the device without obligation!
During the examination, we are in contact with you via intercom. We can also see you through a large window.
You also have the option of bringing a trusted friend into the examination room, who will accompany you the whole time and remain beside you during the examination. The person accompanying you must follow the same safety precautions (for example the removal of all jewelry and bobby pins, information on metal implants) that apply to you.
We can also give you a sedative before the examination, but bear in mind that you should not drive a motor vehicle afterwards..
Do you have any special requests? You are welcome to discuss them with us!